"Black cumin oil is probably the single most important oil you can put in your system." ~Dr. Gary Null
Known in the Middle East as 'The Seed Of Blessing'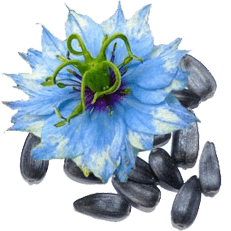 Black Cumin, also known as Nigella Sativa,  first reported discovery in Egyptian Pharaoh Tutankhamen's tomb. Part of the buttercup family, the seeds are dark, thin, and crescent-shaped when whole.
There have been reports of these health-giving seeds being used throughout history in the Middle East, the Mediterranean and India
Cleopatra used it as a beauty treatment.
Queen Nefertiti used black cumin seed oil to bring lustre to her hair and nails.
Hippocrates used it to assist with digestive and metabolic disorders.
Archaeologists even confirmed that King Tut had a bottle of black cumin seed oil in his tomb for use in the afterlife.
It is no surprise then that Black Cumin Seed Oil has also been used by practitioners of Ayurveda and Chinese Traditional Medicine for thousands of years to treat an extensive list of mild to extreme health conditions. In recent years, it has been put to the test and several scientific studies confirm its long reported health benefits.
Referred to as "The Highest Level Health Giving Seed Oil"…
With reported effectiveness against life-threatening culprits… black cumin may be the most effective "all-in-one" health food in existence.
Since 1964, there have been 458 published studies involving black cumin, confirming what Middle Eastern and North African cultures have known for thousands of years.
Black cumin seed oil is quickly becoming the best health product for millions of people internationally.
It's native source, Nigella Sativa, has been involved in hundreds of studies regarding high-level wellness and particularly disease prevention.